As featured in the Chico ER:
New Mazda showroom done differently
1/11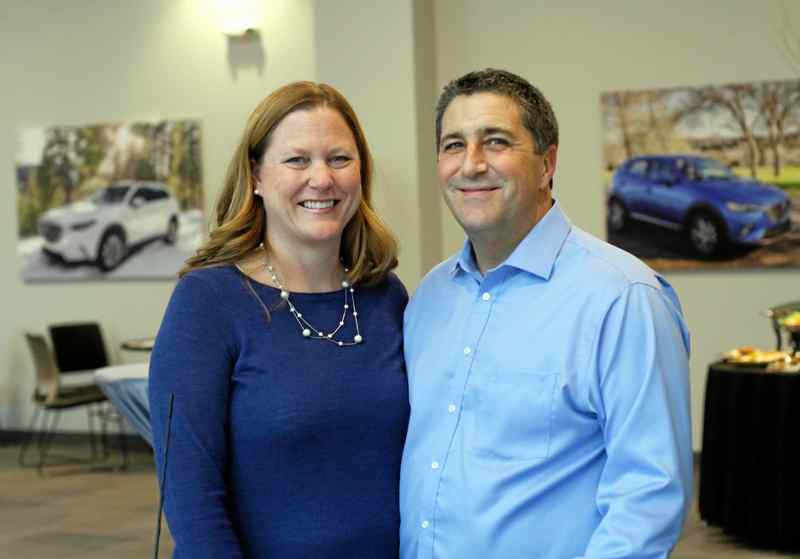 "I've been at other dealerships where you're stuffed into a room with 200 chairs. This is pretty amazing."
Porras was referring to the waiting area at the new showroom at the relatively-new Chico Mazda dealership in downtown. The showroom was unveiled last week.
What makes it unusual is exactly what Porras noticed - attention to details for customers' comfort. It was part of the plan from the start, says Mark Abouzeid, who owns the dealership with his wife, Amy Abouzeid of Chico.
The Abouzeids, who also owns the Volkswagen dealership next door, have noticed that customers who come in for service are willing to wait for as long as the work takes.
They have the option of being dropped off at a destination or work, or even getting a free car rental, but most choose to wait.
Aiming at comfort, Abouzeid had the waiting room crafted with that in mind, saying that it's not just isolated to Chico.
"A big dealership in Atlanta has noted the same. People want to wait," he said, adding that spare time can be used for work or relaxation.
While the Mazda dealership was opened in 2015, it was wedged into the property next to the VW dealership.
Ten years ago, Abouzeid bought a two-story building from the Volpato family that is southeast of the VW showroom. After about $1 million in renovation costs to the 1940s building, the showroom allows for three vehicles on the ground floor and then auxiliary space upstairs and downstairs. Russell Gallaway Associates handled the design, which was built by Slater and Son, both Chico companies.
Porras and another customer were the first two to enjoy the downstairs accommodations, which included the couch next to a mounted television screen, a padded play area with brightly colored rubber pads for children, free Wi-Fi, and another "room" created by glass walls.
Inside the latter, three recliners face three mounted TV wall screens that allow television, movies or gaming use with wireless headsets. An old-fashioned Packman table game is on the to-buy list.
There's a counter and sink, and access to a bathroom, coffee and an elevator.
Decking the wall are an array of children's art from nearby Chico Country Day School.
The flooring - black, gray and white colors - was from the original building, but updated with an easy-clean rubberized surface.
Upstairs are two balcony areas, one for customers to enjoy the outdoors, with patio seating and tables. The other one will become a covered balcony for the roughly 40 employees of both dealerships to use for breaks.
On the ground floor, the showroom is equipped with TV screens that alternate with a variety of locally shot photographs displaying Mazdas with backdrops such as the Honey Run covered bridge and Cohasset Road brick office buildings.
In addition, there's an employee breakroom and a small room that Abouzeid calls the "business development center."
Inside, work spaces are set aside for answering phones, be they calls for service, a inquiry over sales price or an internet question. If a customer isn't walking through the front door, Abouzeid wants to make sure their voice gets heard. He's hired a couple of Chico State University students to handle the phones.
In keeping with efforts to cut costs and be conservation-wise, Abouzeid continued his use of artificial turf as landscaping and installed LED lighting at both dealerships, cutting his power bill by about $1,000 a month, he said.
While Mazda sales, which Abouzeid says are "great," will occur in the new showroom, the service counter for both is at the VW dealership next door.
Abouzeid is expecting officials from Mazda to visit the new showroom in March. His Mazda dealership is the only one between Yuba City and Medford, Oregon. The Volkswagen dealership is the only one between Sacramento and Medford.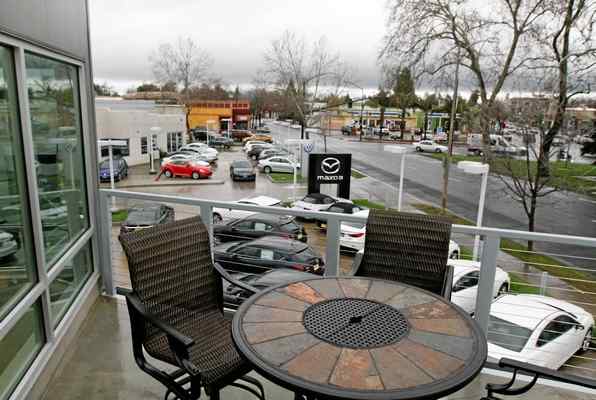 Contact Laura Urseny at 896-7756, email lurseny@chicoer.com or on Twitter @LauraUrseny.